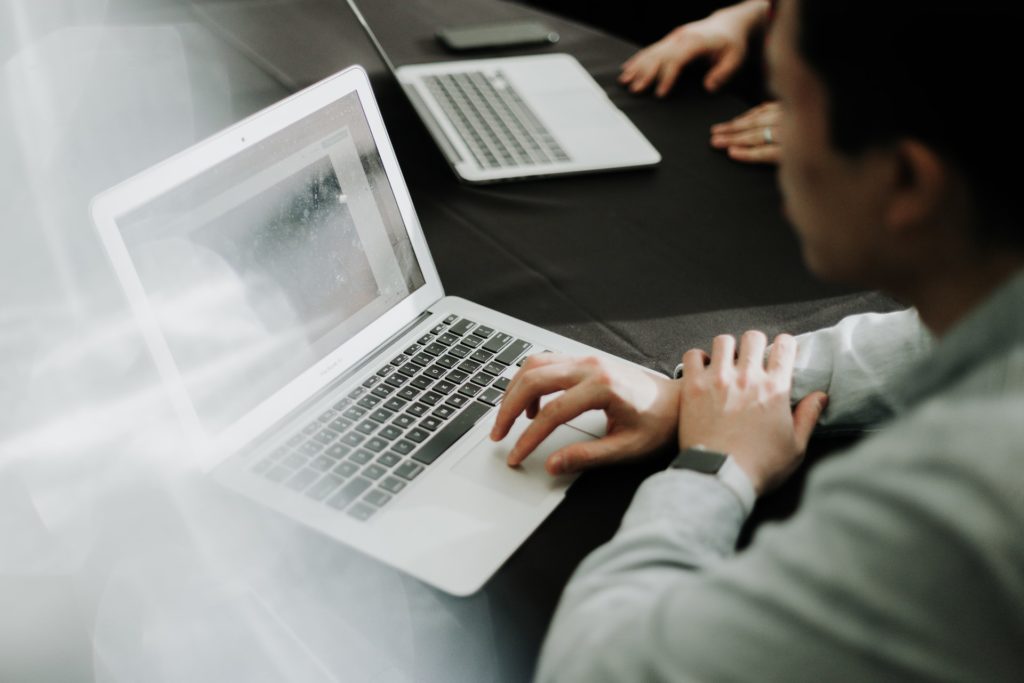 Have you ever wondered how you can start a career as a developer? We track the progress of CodeSpace graduates over the first three years of their careers which provides us with valuable information about what is most important to kickstart a career in tech.
If you're wondering what your career might look like after completing the 400-hour Software Development track at CodeSpace, we've compiled some insights for you.
What career paths are there if I know how to code?
CodeSpace courses are a launchpad for a career in tech. Our graduates are employed in some of the most exciting tech companies in the industry. In just six to nine months, someone can complete the 400-hour Software Development track at CodeSpace and go from zero knowledge of coding to walking with confidence into their first entry-level job as a developer.
The most common job titles of our graduates with 18 to 36 months work experience are:
WordPress Developer
Fullstack Web Developer
Web Applications Engineer
Quality Assurance Engineer
Data Engineer
DevOps Engineer
Systems Analyst
Operations Manager
What is it like working as a young developer?
A career in tech is ideally suited to people who enjoy challenging tasks and continuous learning.
Did you know that job satisfaction leads to increased productivity, decreased employee turnover, and less stress overall? It also contributes to a positive workplace environment. That is why we are always so happy to hear about our graduates thriving in their jobs.
"Working as a developer, I enjoy the opportunity to bring my fresh technical ideas to my team and how I'm challenged to perform to the best of my abilities." — Njabulo, Software Developer
"I enjoy the satisfaction in accomplishing tasks that often seem too complex at the start. The industry offers lots of opportunities, and flexibility of where you can work geographically."  —  Mish, Front-End React Developer
What is the salary and earning potential of a developer?
Junior developers' earnings increase exponentially over their first years of work. In an ideal situation, a young developer will find a team where they have plenty of opportunities to learn from their team. We encourage our students to view their first one to two years of work as continued training because you will be expected to maintain a rapid pace of on-the-job learning.
Entry-level developers can expect to earn R8,500 to R13,500 per month for the first 6 months but this grows rapidly and with three years of experience under their belt, CodeSpace graduates can expect to be earning R27,000 to R38,000 per month.
Factors that affect salaries include:
Additional skills. The salaries above are based on developers with no previous professional experience. People making an early or mid-career shift, and adding coding to another skillset can expect to earn a higher salary.
Commitment to on-the-job learning. Developers are expected to learn swiftly on the job. The degree to which you can do this plays a big role in your salary growth.
Location. Each city has slightly different salary norms. For instance, developers in Cape Town earn more than developers in Johannesburg.
Industry. Developers are employed in many different industries. Different industries have different salary norms.
"How far you go in the industry is dependent on how much you know and your commitment to improving; not necessarily years of experience. So if you commit to being consistent over a good period of time, you can earn the capabilities and market-value in half the working-time-span of someone who has been half-hearted"  — Mish, Front-End React Developer
Interestingly, developers with degrees do not have higher earning potential. In the South African industry, developers without university degrees have a higher long-term earning potential.
A developer with more years of practical experience has higher earning potential than someone who spent time gaining an undergraduate degree.
Let's look at this scenario: if you do a one-year certificate, you will enter the industry about three years before someone who has chosen to do an undergraduate degree, which spans three to four years on average. That means you will start gaining more on-the-job practical experience sooner. You'll then be able to use this experience to increase your earning potential before your degreed counterpart even graduates and enters the job market.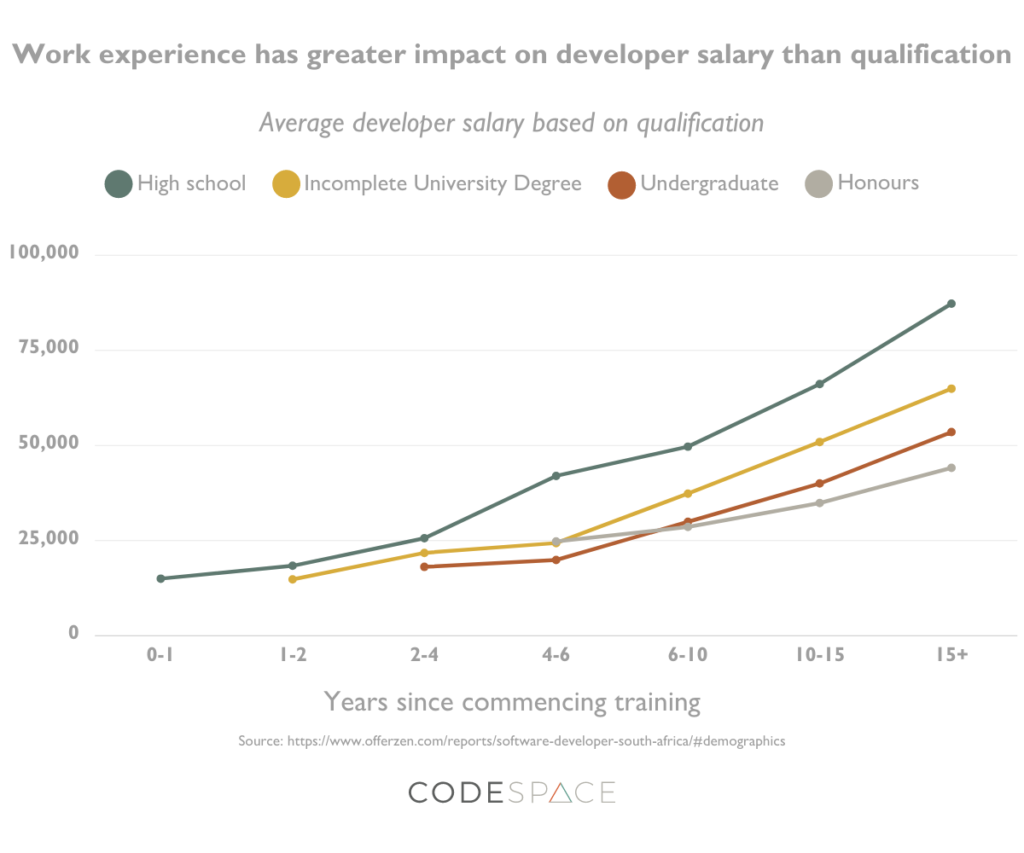 Studying through CodeSpace can launch you into the tech industry much sooner as our courses are generally three months to one year long versus a three to four-year degree. We provide the support needed to help you as you find your feet in the working world.
Ahmed says that he is three to four years ahead of where he would have been if not for CodeSpace.
Career trajectory as a developer
In the fast-moving world of technology, developers are expected to be able to constantly learn new things.
It is not uncommon for developer job application processes to ask applicants to learn a new technology and then apply their new skills to a practical challenge.
The ability to learn is generally understood as the most important skill that a developer can have.
At CodeSpace, we focus on teaching students how to learn. We want our graduates to feel confident in their ability to constantly stay abreast of new technologies.
Njabulo says that CodeSpace equipped him with the skills to learn continuously, from those around him and on his own. While Mish is grateful to CodeSpace for giving him, "the confidence and enough skills to be taken seriously as an intern as well as a can-do attitude after seeing what can be achieved after a short time studying."
"The course gave me workplace preparation and the tools to succeed in my career. I felt very comfortable walking into my first interview." — Ahmed, Web Developer
"The team has been backing me the whole time. I'm grateful for them." — Ahmed, Web Developer
Advice for future developers
Here are some tips from our graduates to help you on your way to becoming a successful developer in the tech industry:
Surround yourself with those who are cleverer than you. Learn as best you can from the people around you. Other people are invaluable on your journey to success.
To improve your skills, be willing to do more than what you are required to do.
Remember your WHY: do it for your love of coding, and you will experience career satisfaction.
Humility goes a long way when you are growing as a developer.
Don't give up! Enjoy the process of learning, growing, and persevering in your job so you see the result of your hard work.
Work on your communication and soft skills.
Soft skills to cultivate to thrive in the tech industry:
As mentioned by our graduates above, soft skills help you thrive in the tech industry when you are looking to grow in your development career. Here are some soft skills we recommend cultivating and improving:
Attention to detail
Communication skills
Analytical skills
People skills, especially how to work well as part of a team
Adaptability
Flexibility
Creativity to come up with ingenious solutions
Logical thinking and problem solving
Willingness to continuously learn and grow your skills in coding
What some of our other graduates have to say
"Before starting at CodeSpace I was driving Uber part-time and selling gym membership cards. I was trying to save up for a three to four-year degree. If it weren't for CodeSpace, I'd probably still be saving to be a web developer. Just three weeks after finishing my course I became a developer at One Day Only, and I'm still there." — Ahmed, Web Developer
"I am really grateful for my entire experience. Not a week goes by where I don't talk or share stories about CodeSpace. It's a super environment for personal and technical growth. I always felt comfortable asking questions and discussing the work being taught. If you want a foot in the coding door or a better understanding of this cool industry, CodeSpace is the perfect place to start. Thank you for opening the door to an entirely new world of opportunities and experiences." — Stephan M.
"My time at CodeSpace was invaluable! I learned a huge amount about the world of web development. The course helped with the soft skills needed in the workplace. It also built my confidence as I joined the industry." — Jasper C.
"CodeSpace gave me the tools to realise my potential. As a student, I became so much more confident in what I had to offer. I wasn't just taught to code, but how to believe that I can code, and take it from there. CodeSpace is a sanctuary built by people who genuinely care about our futures, and for that, I am very grateful." — Aziza B.
Conclusion
Have you been inspired by our graduates' tech industry success stories? Give yourself a head start in your tech career by studying through CodeSpace.
Our ultimate goal is to see our graduates enjoying their work, earning well, and learning something new all the time and we'd love to help you start your career!
 Find the course that suits you: www.codespace.co.za/courses.