When national lockdown was declared in South Africa, all CodeSpace students transitioned to a 100% online learning environment.
For the last three months over 1000 CodeSpace students have rapidly adapted to learning online.
Online learning has some major advantages for our students. In an online environment we can offer students greater autonomy over their learning experience so each student can learn in a way that suits them.
Students have flexibility to choose their learning environment
For the last three months in South Africa we have all been forced into working and learning from home and in the current stage of the pandemic, CodeSpace students will continue to learn 100% online.
However, as lockdown eases, students will have the option to transition back into a hybrid learning mode where they can opt to spend some time learning on campus and some time learning remotely.  We think that we will see a major jump forward in how people approach learning. We believe in life-long learning where learning is an integral part of all stages of life. However, the prevailing mindset is that learning is a linear journey; and that learning happens in isolated moments. Lockdown has forced everyone to re-examine these ideas.  As we transition out of lockdown, we will work with students to find the right balance of working in a dedicated learning space, and integrating learning into their home environment.
Many people think of online learning as learning alone, and classroom learning as learning together, but this is a false association. Lockdown has forced us all to re-define how we relate to people, and the implication for learning is that students have rapidly learnt to collaborate in an online environment.
"You can study at home AND you have access to people that can help all the time"  
Students choose CodeSpace for our human-centric approach to learning, and the personal attention that students get in our classes is what sets us apart. Students can choose the amount of interaction that suits their learning style. Each CodeSpace student is assigned a Code Coach and schedules coaching sessions as needed, so students can choose the number of hours of coaching they prefer, letting each student define what works for them.
Students can set their own learning pace
Fixed class times limit a student to a particular pace of learning. In an online environment we are able to offer students the chance to choose the pace of their learning. Some students elect to learn intensively to be able to up-skill as rapidly as possible, whilst others will pace their learning alongside other work and activities.
The flip side to flexibility is accountability. CodeSpace students agree upfront with their Course Lead at what pace they want to work so that they can be held accountable to meeting their own goals. We all know how it goes when you have the best intentions, but laziness sets in at the moment you have to roll up your sleeves and work on a code challenge!
Remote learning opens up broader work opportunities
Learning remotely prepares students to be able to work remotely which broadens their potential job market. South Africans are well positioned to work globally, being in the same time zone as Europe and having English as a business language.
Working remotely takes some getting used to, and learning remotely is an ideal time to build good work habits that carry through into one's career.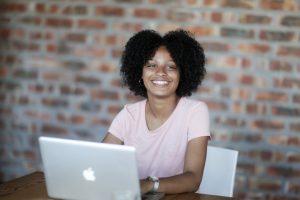 Whilst we have seen many positives come with the shift to online learning, we have also seen how this creates even greater disparity between the have's and have-not's.
At the heart of CodeSpace's existence is the mission to make high quality education accessible.
In response to the COVID pandemic, over the last three months we have:
Offered our online kids coding courses free of charge to school learners from Grade 4-12
Awarded 14 scholarships for our Intro to Web course to women looking to up-skill during lockdown
Made emergency funding available to our students to assist with setting up home learning environments
Awarded all of our graduates free access to our part-time AWS Cloud Computing course, giving them an extra skill to use in the workplace
Offered additional employment support to our graduates who lost their employment under lockdown, helping them find new employment.
Looking ahead, we are more driven than ever to make sure that people are equipped with valuable skills that give them access to economic opportunity.  We see great positives in the rapid adoption of online learning which has opened up positive shifts in how people approach their learning.
As the global economy contracts, we see the tech industry offering robust employment opportunities.
More than ever, education will determine who has access to those opportunities.